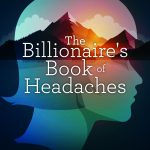 People with severe headaches and neurological symptoms they do not understand want advice from a neurologist.
In the UK and Ireland there is a shortage of neurologists.
It is important you make good use of any time you get with your neurologist, so you understand your problem and take control of the situation.
My name is Dr Raeburn Forbes.
I am a Consultant Neurologist based in Northern Ireland, based in the Southern HSC Trust and in private practice in The Ulster Independent Clinic and Hillsborough Private Clinic.
I have worked in the health service in NI since 1999 and remain an active member of our profession providing clinical care, education and supporting clinical research.
Here are 4 things I offer:
Information about headache symptoms
The Billionaire's Book of Headaches (Probably the best headache self-help book you never read)
For research or teaching enquiries contact me via Neurology Centre, Southern HSC Trust, Portadown, Co. Armagh. BT63 5QQ
I look forward to hearing from you.
Dr Raeburn B. Forbes MD(Hons) FRCP Ed FRCP Lond
Consultant Neurologist