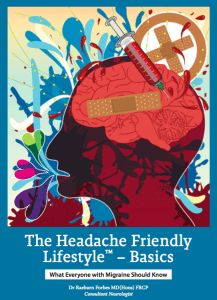 Following The Headache Friendly Lifestyle ™ means getting control.
Does this sound like you?
You've tried avoiding triggers but remain in pain?
You think something more serious must be going on?
Spending hours looking for answers?
Nothing works for long?
The Headache Friendly Lifestyle ™ will show you:
A different approach to searching for causes or triggers
How pain has messed up your thinking and how to challenge this
To focus on places that matter and how to stop wasting time
Ways to avoid common medication errors and limits to diet and exercise
Before considering The Headache Friendly Lifestyle ™, your first step is to know you are SAFE.
Who is The Headache Friendly Lifestyle ™ for?
It's for people who suffer bad headaches, one of which is Migraine.
It's for you if you have seen your doctor about headaches and want to know what to do next.
People who follow this free online course feel more in control.
They are better informed.
They feel that they have realistic options.
They know what to expect.
Each year 2% of people with Migraine move into a pattern of headache is called Chronic Migraine.
In Chronic Migraine there is a dull ache or pressure every day and on top of this come severe migraine headaches.
People with Migraine or Chronic Migraine who have normal neurological and eye examinations do not have a serious disease, but need to feel safe.
Once you feel safe, you can takes steps – which I have called The Headache Friendly Lifestyle ™, to let you get back in control.
Headache Research proves that if you find out more about your headaches, you will experience fewer headaches and use less medication.
This is an astonishing result from being better informed.
Knowledge IS Power and puts YOU in control.
Disclaimer:  These emails and The Headache Friendly Lifestyle™ are not substitutes for proper medical care – if you have symptoms causing you concern you must consult your own doctor.  By signing up for any course or materials, you agree that these are educational materials and that the author and the authors publishing company accept no liability for damage to you or third parties alleged as a result of material read, downloaded or enacted.
You cannot get The Headache Friendly Lifestyle™ course anywhere else.
Your first step is to know that you are safe.
If you want The Headache Friendly Lifestyle – sign up below.
Is Your Headache Dangerous?
Get Control of Headaches
Feel Safe: Your First Step
Self-care Basics